(Click on images to enlarge)
This year's museum volunteers trip is to the Phoenixville area, Chester and Montgomery Counties,  Pennsylvania, where Chris Sanderson was born and where he lived and thrived until 1905. By then, he had finished college at West Chester Normal School (now West Chester University), started his teaching career at the Garwood School in Montgomery County (1901-1902), and taught for three years (1902-1905) at the Port Providence School, in the village where he was born.
Chris was born to Hanna and Robert Sanderson on January 7, 1882,  in the home of his maternal grandfather, Captain Christian Smith Carmack, where his parents lived at the time. The house, on Walnut Street in the village of Port Providence, overlooks the Schuykill Canal, adjacent to the Schuykill River northeast of the town of Phoenixville.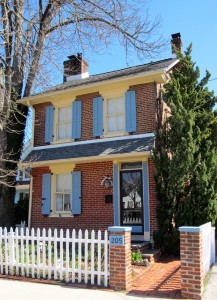 Shortly after Chris's birth, in April 1882, owing to the remarriage of Hanna's father, the Sandersons  moved to "The Little Brick House" on Jacobs Street in Mont Clare, a village  about a mile to the northwest, also on the Schuykill Canal. Here they lived until 1890.
In 1899, a few months after Chris's father died of Typhoid Fever, Hanna, Chris, and his brother Robbie moved into a new home bought for them by Captain Carmack, Hanna's father. The property adjoined that of Captain Carmack and, like his, it overlooked the Schuykill Canal. The front the house faced south. Hanna immediately named it "Sunnyside."
"Sunnyside," located a scant few hundred feet southeast of Chris's birthplace, was Chris's home until 1905, when he accepted a teaching appointment in Chadds Ford, Pennsylvania. In 1906, his mother Hanna moved from "Sunnyside" to Chadds Ford to live with Chris at Washington's Headquarters.
Chris passed away at Bryn Mawr Hospital in 1966 at age 84. He is buried at Morris Cemetery in Phoenixville.  The family plot includes his maternal grandfather (Captain Carmack), his parents,  his brother,  and a marker for his paternal grandfather, Lt. Robert Sanderson, who was killed in the Civil War Battle of Chancellorsville, but whose body was never found.