Come and help contribute to the Christian C. Sanderson Museum as we look forward to the    245th Anniversary of the Battle of Brandywine
The Battle of Brandywine was very close to Chris's heart.  He lived in Washington's Headquarters before it was part of the State Park.  He gave thousands of tours and lectures about the battle and never forgot its place in American History.
Place: Thornbury Farms – 1256 Thornbury Rd, West Chester, PA 19382 (Click here for Directions)
Date: Thursday, July 21st, 2022
Time: 6pm to 8:30pm
Cost: $20 person / $30 per couple / Free for our Sanderson Museum Members
This is a rain or shine event.  Thornbury Farms has a pavilion we can be under during the event.

If you are a museum member, please email us at info@sandersonmuseum.org to confirm
***************************************************************************To purchase tickets, please select the type of ticket from the drop down box and then click on Buy Now!!
JOIN US FOR A LECTURE as we welcome author and historian Michael Harris as he will present a lecture on his book Brandywine: A Military History of the Battle that Lost Philadelphia but Saved America, September 11, 1777. Mike will have his books there to purchase and sign for your convenience.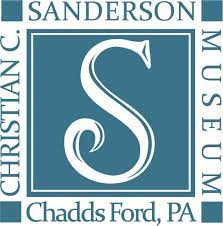 SEE ARTIFACTS as Chuck Ulmann, curator of the Sanderson Museum, will display artifacts from the Revolutionary War period, including some from this pivotal battle that are on display at the Sanderson Museum.
SOLDIERS FIRING!!  Learn what these men faced from a British, Continental, and Militia reenactor.  See what they carried into battle and what accounts they have found.  At the end of the presentation, there will be a firing demo by all three reenactors.
FOOD & DRINK: Thornbury Farms Framers Market will be open. You may purchase Breads, Popcorn, Pretzels, Cake, Cookies, Pies, Water, Ice Tea, Ice Cream Treats, Cheese & Crackers, Fruit, and much more!!
Please help celebrate the Sanderson Museum as Chris would have liked, with our neighbors and friends, with plenty of food, and with education about the battle, artifacts, and reenators.