Every Kid's Life Needs a Chris Sanderson
By John Aaron
(Click on images to enlarge)
Christian Carmack Sanderson passed away in 1966 at age 84. Today, his most tangible legacy is his unusual collection of historical relics and memorabilia housed in the Sanderson Museum in Chadds Ford, Pennsylvania, in the building that was his home for 29 years. The collection stands as an important record of the 'American Experience' as Chris perceived it, but it represents only one facet of his varied life and legacy. He was a huge presence in the lives of many people in the Chadds Ford area, including kids. To those who knew him only peripherally, he was a crusty curmudgeon; to those like me, who knew him up close and personally, he was, in fact, a vastly complicated, multi-dimensional character, whose talents, personality, and intellect enriched the lives of many and helped to shape the culture of his time and place.
Memories of Chris rank as the one of most abiding treasures of my growing up in Chadds Ford in the 1940s and 1950s. By then, Chris had long since (1929) ended his peripatetic career as a school teacher and had gained fame—but certainly not fortune—as a historian, lecturer, radio personality, fiddler, band leader, square dance caller, square dance teacher, and actor, and also as an inveterate collector of historical relics, artifacts, and memorabilia. The reality, however, is that although Chris left teaching, teaching never left Chris. Regardless of the enterprise, he never missed an opportunity to share his knowledge or perspective. Whether it was kids or adults did not matter. At his core, he was always a teacher.
Chris was an iconic character defined by strong personal qualities. As a collector, he was irrepressible and compulsive. As a personality, he was gregarious, entertaining, generous, kind, passionate, thoughtful, intensely patriotic, and truly one of the most interesting and unforgettable persons one could ever know.
Chris loved people of all ages, but he had a special bond with kids, whom he loved to tease and entertain but, most especially, to teach and inspire. Beginning in 1943 (at age 7), I lived a scant 100 yards from Chris, and I was one of those kids.
Chris would lead us on hikes through freshly plowed fields looking for arrow heads and cannon balls; or, from his porch or front room, he would deliver impromptu lectures on some aspect of the American Revolution or the American Civil War, illustrated with pieces of his collection of historical relics; or, as our square dance teacher, he would take us to events, including a TV show, to perform with him and show off our dancing skills; or he would take us on trips to teach us something about our Nation's history or government; and on Christmas Eve, unannounced, he would walk around the village delivering little gifts to the kids. By then, his mother had passed away, his only sibling lived elsewhere, so some of us neighbor kids (and our parents) became his de facto family.
In those days, Chris was easily the most visible and audible resident of Chadds Ford. He frequently visited Chadds Ford School to lecture to classes on American history, especially the American Revolution and the Battle of the Brandywine. He also had a weekly radio show on which he talked about his travels ("rambles", he called them) and related history. I once appeared on a WCOJ program with him and read a piece, the topic of which I have long since forgotten. But I vividly remember the event.
Country dances were held in the Chadds Ford School auditorium every few weeks on Friday or Saturday evenings. Chris called the dances—including square, contra, and round dances—and his band, the Pocopson Valley Boys, played the music. Before each dance set, Chris—always the teacher—made sure that everyone knew the steps. If he saw a group mis-stepping or seemingly confused about what to do, he would stop the music, march down from the stage onto to the dance floor, and repeat the instructions to the erring dancers. It was very embarrassing to those singled out in that fashion, but he meant no harm by it. It was part of his compulsive nature to insist that the dances be performed properly, which meant perfectly. The dances were enormously popular with both kids and adults. And why not? The admission to an evening of great fun and entertainment was only 60 cents.
Chris never owned a car. He traveled by foot, bicycle, bus, train, or hitchhiking. He was a familiar, hunched figure walking along Route 1 carrying his violin and brief case. He was usually headed eastward, toward the intersection of Routes 1 and 202 (then known as "Painters Cross Roads" or "Christy's Corner" —Christy's was a restaurant there), where he could catch a ride or a bus to West Chester, Wilmington, or Philadelphia. He hitchhiked everywhere, but he never used his thumb. It was unnecessary. As he lumbered along Route 1, every few steps he would stop, turn around, and stand to face the oncoming traffic, hoping that someone would recognize him and give him a lift. He was so well known that the process rarely took more than a few minutes. If there were kids in the car that picked him up, Chris would entertain them or tease them by making an array of odd sounds that he pretended were not coming from him.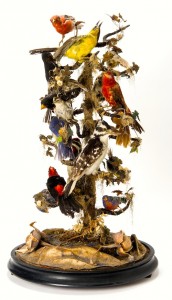 Chris directly inspired and nurtured my interest in American history. Indirectly, but no less certainly, he also advanced my interest in birds. At age 11, I was increasingly curious about nature, especially birds. Because I did not own binoculars, I had to chase birds around the village by foot or on my bicycle in order to try to get close enough to identity them. It was good exercise, but lousy birding. Eventually, I discovered that Chris owned a collection of  birds (all Eastern natives) preserved and mounted in a Victorian domed glass cylinder that he kept in his front room. It was a revelation to me, because it gave me a chance to study some birds up close. I looked for it every time I went to visit him. From time to time, it got moved or buried under other treasures, but I was always able to find it.  I was thrilled to rediscover it in the Sanderson Museum when I visited for the first time in 2010. For me, that dusty old Victorian glass cylinder full of mounted birds represented a triple-junction where opportunity, interest, and imagination converged and helped to forge a life-long interest.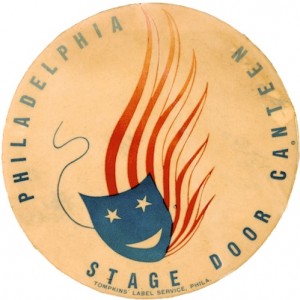 I vividly remember August 14, 1945. The village emergency siren was rarely heard, but on that day it sounded loudly, and the tone fluctuated wildly for many minutes. My sister and I walked the few yards from our home to the village center to see what it was all about. There we found Chris with his hand in the siren control box, beaming from ear to ear, and having the time of his life announcing V-J Day and celebrating the end of World War II. Immediately after he finished that performance, he participated in public celebrations in West Chester and Phoenixville, and then performed for wounded troops at the U.S Army's Valley Forge General Hospital in Phoenixville. It was a long, glorious day for the patriotic Chris. Moreover, throughout WW II until early in 1947, Chris and his Pocopson Valley Boys regularly entertained troops at the Stage Door Canteen and USO in Philadelphia, an activity of which Chris was justly very proud.
Chris deeply loved American history, and he shared his knowledge with infectious enthusiasm. He was a widely recognized expert on the events of September 11, 1777, the Battle of the Brandywine—the largest land battle of the American Revolution. Chris's oral account of the battle, illustrated with a map that he would hand draw for the occasion on a sheet of paper, a napkin, a chalkboard, or a bed sheet, was so vivid, so riveting, and so richly detailed that one might have concluded that he was actually there as a witness! He was relentless in focusing public attention on the historical significance of the battle, and he was also very outspoken in conveying his hope that someday there would be a state park on the battlefield by which to commemorate the battle and preserve its history for future generations. Absent his passionate advocacy, it is unlikely that the Brandywine Battlefield State Park would ever have become a reality.
Even as kids, we knew about Chris's large collection of historical relics. His house was filled and completely cluttered with artifacts. It was all quite disorganized, but he proudly welcomed visitors to see it and revel in the American history that it represented. It would be wrong, however, to think that Chris lacked a grand organizing principle and a compelling collecting philosophy. Chris's organizing principle, his collecting philosophy—indeed, his entire philosophy of life—all were embodied in one word: history. He was dedicated to preserving our past, as he perceived it, and as best as he could manage to do it. Chris collected whatever interested him, whatever touched him—no matter how quirky—probably for reasons that only he fully understood. The scope of his collecting was truly astonishing—family treasures, music, militariana, sports, American history, art, local life, culture, books, glass, china, photographs, autographs, posters, signs, newspapers, letters, curios, arrowheads, rocks and minerals, and more. All of it was crowded into his little house in Chadds Ford.
"Everything is precious to me," he would say, and indeed it was. I like to think of his collection as one man's random walk through the universe of American history, collecting interesting and unusual objects along the way. More than anything else, Chris's idiosyncratic collection of historical relics, artifacts and memorabilia defines and celebrates his singular vision of the American experience. Given the breadth and depth of his collecting, one wonders how he ever had time to pursue the many other activities for which he was equally or even more famous!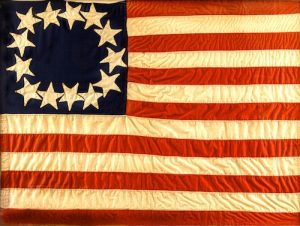 Chris's love of American history was fully matched by his boundless—and very contagious—patriotism. The Sanderson Museum is full of examples—militariana, photographs, posters, autographs, personal keepsakes, and more. He also owned a large collection of American flags. Some his mother had sewn as replicas of historic flags, especially the 13-star "Betsy Ross" flag. Many others were small flags that he carried with him to commemorate events and occasions that he thought were of especially historical significance. All are meticulously documented with respect to the dates and events involved.
I began this memoir by asserting that Chris's most tangible legacy, certainly the most accessible, is the large collection of historical artifacts and memorabilia constituting the Sanderson Museum in Chadds Ford. Although this is certainly true, his intangible legacy, which is manifestly more difficult to define and appreciate, may be even greater. His love of this Nation, its people, its culture, and, especially, it's rich history was transcendent. He communicated those feelings in all of the many endeavors for which he was well known, and he did so with a consuming passion. He was profoundly influential on kids like me, whom he befriended, nurtured, and taught with the ardent hope that we would grow up to share his patriotism and love of American history. By the time I graduated from Kennett High School, I was hooked, and Chris knew it. In my case, his hope was richly fulfilled.
His admonition, frequently voiced, was, "Be glad that you live in this great, great United States." He certainly was.
John Aaron is a volunteer guide at the Sanderson Museum and a member of the Steering Committee and Board of Trustees. He earned his B.S. in Geology from Franklin & Marshall College and his Ph.D. in Geology from Pennsylvania State University. He is retired from a career in research and management at the U.S. Geological Survey (USGS).